Preventing pressure ulcers in pediatric patients
As wound care clinicians, we are trained—and expected—to help heal wounds in patients of any age and to achieve positive outcomes. Basic wound-healing principles apply to all patients, whatever their age or size. The specific anatomy and physiology of vulnerable pediatric patients, however, requires detailed wound care. Unfortunately, little evidence-based research exists to support and direct the care of pediatric patients with pressure ulcers. This article describes efforts to reduce pressure ulcers in pediatric patients at Driscoll Children's Hospital (DCH) in Corpus Christi, Texas.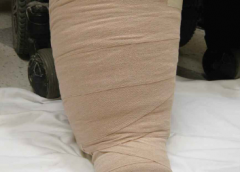 By Erin Fazzari, MPT, CLT, CWS, DWC Have you seen legs like these in your practice? These legs show lymphedema and chronic wounds before treatment (left image) and after treatment (right image) with complex decongestive therapy (CDT)—the gold standard of lymphedema care. The patient benefited from multidisciplinary collaboration between wound care and lymphedema therapists.
2015 Journal: July – Aug Vol. 4 No. 4

Click here to access the digital edition