Safety and Efficacy Study of VM202 in the Treatment of Chronic Non-Healing Foot Ulcers. This study will assess the safety and efficacy of using gene therapy via intramuscular injections of the calf for patients with chronic non-healing foot ulcers.
The first patient has been dosed in a Phase III trial assessing ViroMed's VM202, the first pivotal study of a gene therapy indicated for patients with nonhealing diabetic foot ulcers (NHU) and concomitant peripheral artery disease (PAD).
The Phase III trial (NCT02563522) is a double-blind, placebo-controlled, multicenter study designed to evaluate VM202 for safety and efficacy in 300 adults with a diabetic foot ulcer and concomitant PAD. Two hundred patients will be randomized to VM202 and the other 100 to placebo, ViroMed's U.S. division VM BioPharma said yesterday.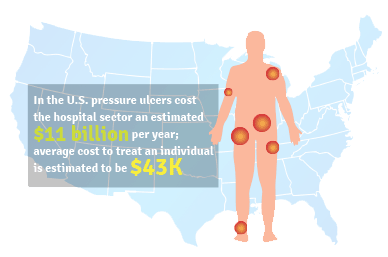 Patients will receive ongoing wound care for the duration of the trial, the company added.
The primary clinical endpoint will be the proportion of subjects with confirmed target wound closure by the 4-month follow-up. Secondary endpoints will include changes in ankle-brachial index and toe-brachial index.
The trial is the second Phase III study of VM202; the first study assessed the drug in another indication, painful diabetic peripheral neuropathy.
VM202 is a plasmid DNA containing the human hepatocyte growth factor (HGF) gene that in vivoproduces two isoforms of HGF proteins naturally found in the human body. HGF is a growth factor that induces angiogenesis and acts as a neurotrophic factor to the peripheral nervous system.
Upon injection into a patient's muscle, VM202 is taken up by cells that produce the HGF protein. VM202 is believed to provide clinical benefit to patients with diabetic NHU, since upon its release from skeletal muscle cells, HGF may induce new blood vessel formation locally by activating various signaling pathways.
====
Study Type: Interventional
Study Design:

Allocation: Randomized
Intervention Model: Parallel Assignment
Intervention Model Description:Active: VM202 + standard of care – 200 subjects Control: Placebo (VM202 vehicle) + standard of care – 100 subjects
Masking: Triple (Participant, Care Provider, Investigator)
Primary Purpose: Treatment

Official Title: A Phase III, Double-blind, Randomized, Placebo-controlled, Multicenter Study to Asses the Safety and Efficacy of VM202 to Treat Chronic Nonhealing Foot Ulcers in Diabetic Patients With Concomitant Peripheral Arterial Disease (PAD)
Primary Outcome Measures:
Confirmed target wound closure by the 4 month follow-up [ Time Frame: 0-4 Months ]The proportion of subjects with a confirmed target wound closure by the 4 month follow-up. Complete wound closure is defined as skin re-epithelialization without drainage or dressing confirmed at two consecutive study visits at least two weeks apart.
Secondary Outcome Measures:
Time to complete wound closure of foot ulcer [ Time Frame: Days 0 to Month 7 ]The time until confirmed target wound closure
Proportion of subjects with a confirmed target wound closure prior to or at 7 months [ Time Frame: Days 0, 60, 74, 90, 120, 210 ]confirmed target wound closure prior to or at 7 months
Percent change in wound volume [ Time Frame: at 2 months, 3 months, 4 months, and 7 months ]The change in the volume of the wound
Percent change in wound area and wound depth [ Time Frame: at 2 months, 3 months, 4 months, and 7 months ]the change in the wound area and wound depth
Proportion of subjects with formation of new ulcers on the target foot [ Time Frame: at 2 months, 3 months, 4 months, and 7 months ]Number of subjects with new ulcers
Time to the major amputations [ Time Frame: Day 0 to Month 7 ]how long until major amputation occurred
Time to the minor amputation [ Time Frame: Day 0 tp Month 7 ]how long until minor amputation occurred
Change in ankle brachial index (ABI) [ Time Frame: at 4 months, and 7 months ]change in ABI at 4 and 7 months
Change in toe brachial index (TBI) [ Time Frame: at 4 months, and 7 months ]Change in TBI at 4 and 7 months
Change in each domain score (quality of life, social life, well-being, physical symptoms and daily living) of Cardiff Wound Impact Questionnaire (CWIQ) [ Time Frame: from baseline at 4 months and 7 month ]change in score of each domain on the CWIQ
====
read the report at clinicaltrials.gov
read more at genengnews.com