NEWPORT NEWS, Va., July 18, 2017 /PRNewswire/ — All four sizes of TheraSkin® are now available to nearly 9 million veterans treated by more than 110 VA Medical Centers and 800 Community Based Outpatient Centers (CBOCs) nationwide as a result of the Department of Veterans Affairs updating their Federal Supply Schedule.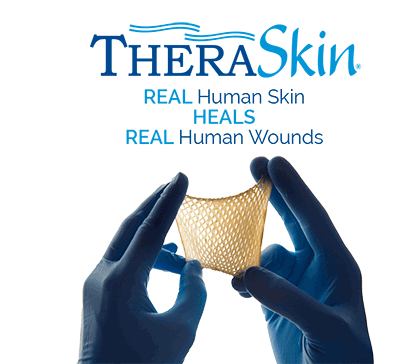 "We are especially proud to offer two additional sizes of TheraSkin to the doctors andnurses treating our nation's veterans suffering with chronic wounds at the VA Hospitals and Outpatient Centers," said Allan Staley, CEO of Soluble Systems, LLC, the company that markets and  distributes TheraSkin. He continued, "Whether the wound is large or small, clinicians and Veterans can know that they have more options available to them with proven clinical evidence to back it up."
In the United States alone, chronic lower extremity ulcers affect an estimated 2.4 to 4.5 million people. Treatment costs for a venous leg ulceration (VLU) have been estimated at about $4,000 per month and $16,000 per treatment episode. Diabetic foot ulcer (DFU) care adds between $9 billion and $13 billion to direct annual US government and private insurer costs associated with diabetes itself.¹
"When selecting the appropriate treatment option for patients, clinicians are more and more weighing the elements of cost and value in addition to safety and efficacy.  TheraSkin is an excellent option as it can close the wound quickly with few applications," said Staley. TheraSkin provides all the relevant characteristics of human skin to heal a wound, because it is real human skin. Backed by clinical evidence supporting reduced time to heal with few applications, TheraSkin is an excellent option for patients and clinicians who are interested in a safe, effective and timely healing for their wounds.
TheraSkin is one of the fastest growing products in the living skin substitute market. A retrospective clinical study of 188 consecutive patients published in Foot & Ankle Specialist demonstrated healing rates of over 60% at 12 weeks and 74% at 20 weeks for both Diabetic Foot Ulcers (DFU) and Venous Leg Ulcers (VLU) evaluated in the study. (2)
1)  Rice JB, Desai U, Cummings AK, Birnbaum HG, Skornicki M, Parsons NB. Burden of diabetic foot ulcers for Medicare and private insurers [published online ahead of print November 1, 2013]. Diabetes Care. 2014; 37(3):651-658
2)  Landsman A.et al, Retrospective Study of 188 Consecutive Patients with a Biologically Active Human Skin Allograft (TheraSkin) for Diabetic Foot and Venous Leg Ulcers, Foot & Ankle Specialist, Feb. 2011. Volume 4, no 1:29-41
About TheraSkin: TheraSkin is a biologically active, cryopreserved human skin allograft for chronic wounds.  It can be used head to toe and has a fully developed extracellular matrix (ECM) with living cells and an "at ready" supply of human growth factors, cytokines and collagen to jumpstart the wound healing process.
About Soluble Systems, LLC: Soluble Systems, LLC, markets an advanced wound care product under the brand name TheraSkin, designed to help healthcare professionals treat difficult-to-heal chronic wounds.
For more information on TheraSkin and Soluble Systems, LLC, visit www.solublesystems.com or call 877-222-2681.
SOURCE Soluble Systems, LLC
Related Links
http://www.solublesystems.com