BY: NANCY MORGAN, RN, BSN, MBA, WOCN, WCC, CWCMS, DWC
What exactly is wound exudate? Also known as drainage, exudate is a liquid produced by the body in response to tissue damage. We want our patients' wounds to be moist, but not overly moist. The type of drainage can tell us what's going on in a wound.
Let's look at the types of exudates commonly seen with wounds.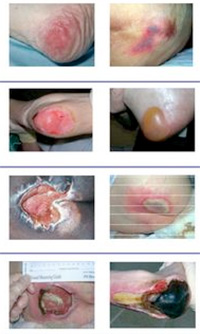 Serous drainage is clear, thin, watery plasma. It's normal during the inflammatory stage of wound healing and smaller amounts is considered normal wound drainage. However, a moderate to heavy amount may indicate a high bioburden.
Sanguinous exudate is fresh bleeding, seen in deep partial-thickness and full-thickness wounds. A small amount may be normal during the inflammatory stage, but we don't want to see blood in the wound exudate, as this may indicate trauma to the wound bed.
Next we have the famous serosanguineous exudate, which is thin, watery, and pale red to pink in color. It seems to be everyone's favorite type of drainage to document, but unfortunately, it's not what we want to see in a wound. The pink tinge, which comes from red blood cells, indicates damage to the capillaries with dressing changes.
Seropurulent exudate is thin, watery, cloudy, and yellow to tan in color.
Purulent exudate is thick and opaque. It can be tan, yellow, green, or brown in color. It's never normal in a wound bed.
So what types of drainage do you see being documented? The famous serosanguineous exudate? Are you really seeing drainage that indicates trauma to the wound bed, or is the drainage type mislabeled? Are you rethinking the need for a contact layer on the wound bed now?
DISCLAIMER: All clinical recommendations are intended to assist with determining the appropriate wound therapy for the patient. Responsibility for final decisions and actions related to care of specific patients shall remain the obligation of the institution, its staff, and the patients' attending physicians. Nothing in this information shall be deemed to constitute the providing of medical care or the diagnosis of any medical condition. Individuals should contact their healthcare providers for medical-related information.